Spotlight on …
Skate for the 22 Foundation
President and Director
Bobby Colliton (Board of Directors: Michele Allan, Treasurer and Director; Charlie Bobbish, Clerk and Director; Keri Allan, Director; Mark Tilch, Director; Deb Elek, Director; Dr. Michele Baker, Medical Director)
Player count
300+ (after beginning with 18)
Humble beginning
"Everyone is affected by suicide," says Bobby Colliton, a United States Army and Air Force veteran. He credits hockey for playing a significant role in saving him from what had become an extraordinarily difficult transition from his time serving.
"I started Skate for 22 Foundation off an idea of what helped me when I was transitioning out of the military, and hockey is what I equate to helping save my own life," says Colliton, who was living in Florida at the time. "The only thing that made sense in my life was Sunday night men's league hockey."
Even if it wasn't military, the locker room had become a family. And when he moved to Massachusetts, Colliton was on the lookout for hockey.
"My girlfriend at the time, now my wife, drove up with me and she said the first thing we have to do is find you hockey," says Colliton. "And she was right."
Colliton began playing in men's leagues, and he had another thought, too: "What if I could just get a couple guys and maybe do a pickup skate with some veterans?"
He asked around the rinks before his games and found interest—a lot of interest. He also met fellow veteran Charlie Bobbish, and the two would begin working on what has become a hockey home to so many who benefit from it.
The organization was formed in September 2015. It was incorporated that November.
But Colliton and Bobbish were just getting started.
"We said, 'Let's develop an actual foundation where we can do good,'" says Colliton. "We filed for a federal 501(c)(3) at the end of January and received it back from the IRS … in eight days."
Alongside becoming a foundation, Massachusetts Hockey provided a grant to Skate for the 22 during March 2016. See more by clicking here.
The mission
The mission of Skate for 22 is threefold, but the core mission is to, in Colliton's words, "provide a team-based environment to veterans through the sport of hockey at no cost."
Come for the hockey, but stay for the team environment, so to speak.
"The second mission statement is to provide suicide awareness and prevention, not only to veterans and their families, but the community at large," says Colliton, who says that when he speaks to groups, there is astonishment when groups learn suicide statistics for veterans.
"And the third thing we do," Colliton says, "is provide assistance to families of veterans who commit suicide or who are casualties of the mental depression war."
That can range from the awarding of one of two scholarships to painting a house.
"When you're in the military, you're set to serve," says Colliton. "And we want to serve the greater good. When you get out, those feelings don't go away. So we give people the opportunity to do that again. Overall, we're building a better veteran community that will make for a better community at large."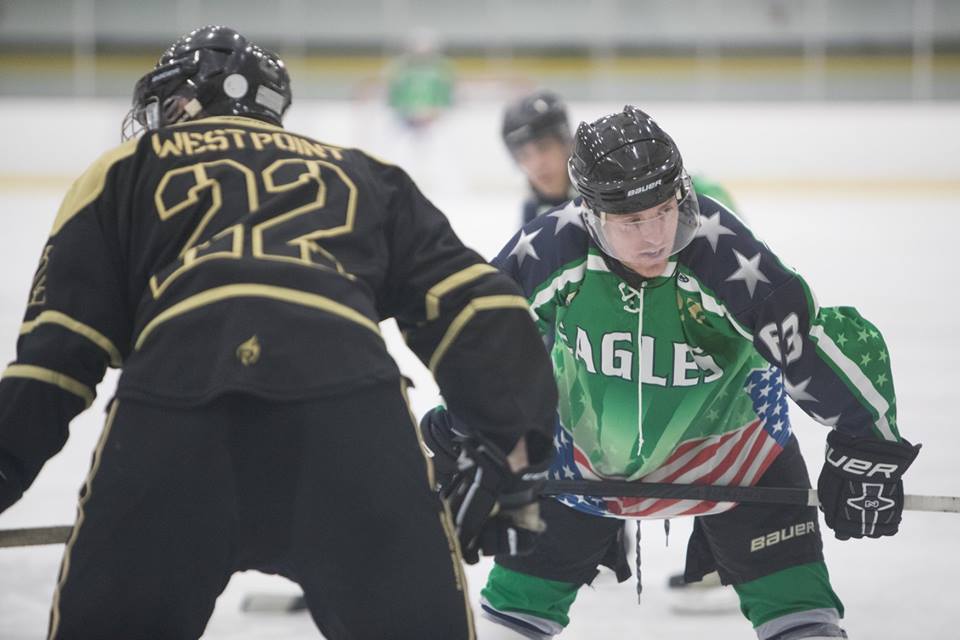 What they're doing right
They play charity games, host skills clinics and practices, scrimmages and learn to play events. They also work with equipment companies and adult programs to defray costs.
And there is no such thing as a tryout.
"You raise your right hand and you served your country," Colliton says. "That's your tryout. You made it. We are an inclusive organization, too. Doesn't matter to us. We are a family if you want to be a part of it."
The best thing about running this program is …
The teams do get to play in some "really, really cool places," says Colliton.
Like:
• Harvard prior to a Princeton-Harvard game.
• Walter Brown Arena, before a Boston University-Boston College game at Conte Forum.
• Military Appreciate Night at "The Dunk" in Providence against Bruins Alumni—twice—and a third time on the Saturday after Thanksgiving.
On Nov. 5, the organization will be the recipient of the Bruins' Military Appreciation Night 50-50 raffle.
Each year, Colliton's players connect for a pro-am with Hobey Baker winner Scott Fusco, who pulls former NHL players and Olympians to split up between two squads in a game that in its inaugural year featured Hockey Hall of Famer Brian Leetch.
"Come to find out, [Leetch's] dad was an Air Force pilot," says Colliton. "And his brother is a chaplain in the Army."
The next big thing
Colliton & Co. outgrew their first roster, the New England Eagles—and their second, the Granite State Cannons.
This year, they've incorporated a team in Maine. They are eyeing Connecticut. There is now a veterans' league on the East Coast, too.
"And people want to be a part of this," Colliton says. "Once a player comes, the first thing he's going to hear is military lingo and people with a common background – whether it's the same branch of service, it doesn't matter. And they are immediately put at ease."
So what's next?
"Worldwide domination" says Colliton with a laugh.
In truth, while he's trying to make hockey accessible to as many veterans as easily as possible, Colliton would like to get back to paying for hockey someday. That would mean he would no longer see such a need to deliver on his mission.
"I want there to be no need for this," he says. "And if I can drop it down to 19, 18, 17, to zero veterans a day committing suicide through the sport that I love, that gave back to me, then I want to do that. If I can put people on the ice and bring them together and make a community better, then that's when I'm going to do."
Colliton has his sights set on moving from New England and down the East Coast.
Worth noting
Returning from serving overseas is not easy. In addition to what might have to be lived through while serving, there's returning to a world where so few would understand what a veteran has experienced.
"I went to work for a company and to an office where I was only the only veteran," Colliton recalls. "And I was hesitant to share some of my experiences because I didn't know if it would upset or offend anybody, and because I didn't know what people wanted to hear. I had to figure so many other veterans were doing this, too."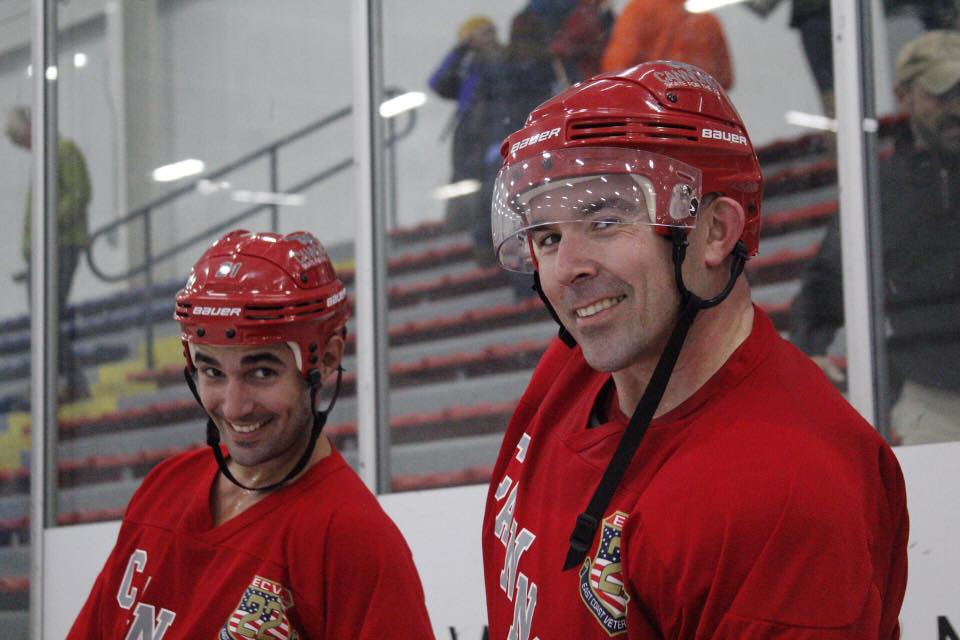 The last word
"The best thing I can say is that I get to see smile," says Colliton. "I do. It's kind of corny, but I see smiles and laughter in the locker room. I see hugs and handshakes. Parents have come up to me to say, 'I haven't seen my son or daughter play competitive hockey since high school and this is so much fun. Thank you so much.' That happiness and laughter and joy is why we do it."